An ambitious project
It all began in 1965, when Baron Frédéric Rolin initiated the clearing of the Bercuit site. The businessman and landowner wanted to turn it into an American-style golf course, with a shopping center, recreation center, swimming pools, tennis courts and equestrian center. An exceptional project for which he called on an internationally renowned architect.
Robert Trent Jones Sr. designed the 18-hole course on gently undulating terrain. Nestled among pines, heather and rhododendrons, the site welcomed its first players in 1967.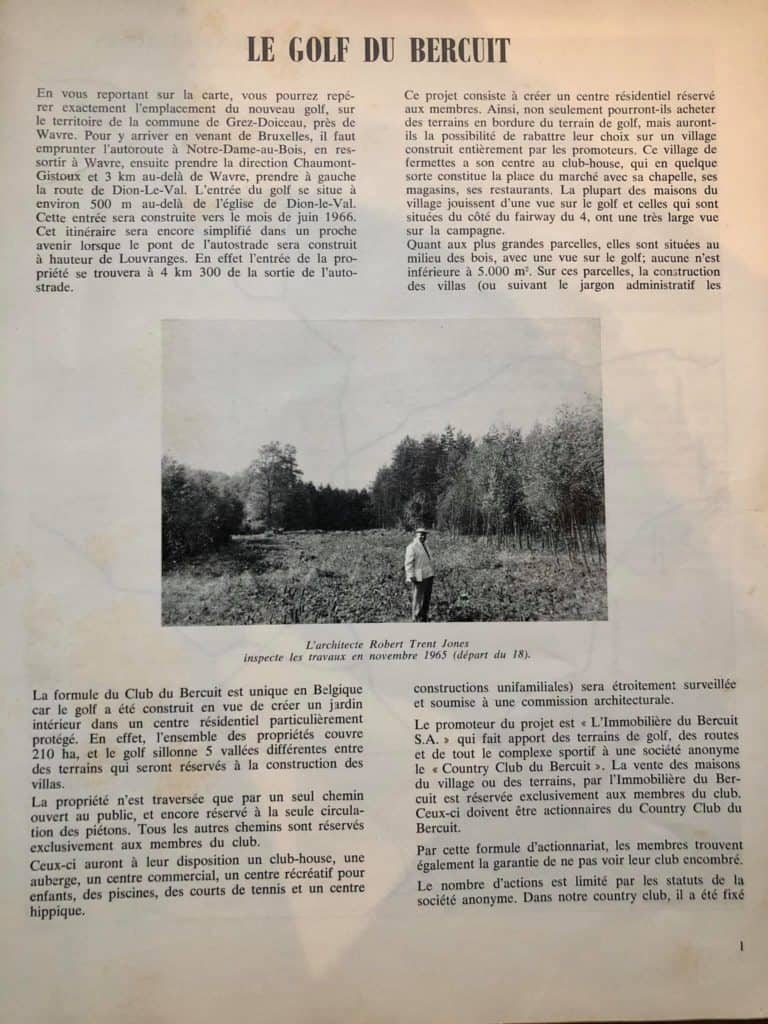 A So British country club
The 1973 oil crisis took its toll. Over the next ten years, the investment groups of Ephraim Ilin and Charlie De Pauw successively attempted to turn the business around. But to no avail.
In the end, it was club members who let their passion for the sport speak for themselves. They bought the golf course and its facilities to ensure its continued existence. On December 29 1982, they created the ASBL "Golf du Bercuit" and the SA "Golf et Sporting Club de Grez-Doiceau".
Since then, the club has continued to develop and modernize, offering a friendly environment for golfers and their families alike. The Club-House, completely renovated in 2008, also offers two seminar rooms for professional or private events. In homage to the course's architect, the larger of the two has been named the "Robert Trent Jones Room".
A championship course
There's nothing more prestigious for a golf course than to be selected to host an Open. The Royal Belgian Golf Federation and the Professional Players Associations have honored us with this distinction on 7 occasions:
In 1988 for the Mens Open, won by José Maria Olazabal
Between 1989 and 1994 for the European Ladies Masters
Le Bercuit, the "tough but fair" course described by the famous Marie-Laure de Lorenzi, has already welcomed some of the world's greatest stars. One of J.M. Olazabal's favorites during his visit was the 531-metre hole 9, at the time the longest par 5 in Belgium.